HOW TO CREATE AN ARCHITECTURE FINE ART PHOTOGRAPH – EXTENSIVE FINE ART ARCHITECTURAL PHOTOGRAPHY TUTORIAL
An advanced and extensive fine art architectural photography tutorial where I explain how to create an architecture fine art photograph by starting with an initial idea and going through the entire process of creation – vision, composition, post-processing, while using the best architectural photography techniques, to end up with a compelling final image.
RECENTLY UPDATED WITH PART 2
While I study this process of creation on a black and white architectural photograph, which is a typical example of the kind of work I do – regular and long exposure architecture photography – see, for instance, my Ultimate Long Exposure Photography Tutorial – most of the principles I am presenting can be applied to both black and white fine art photography as well as to color fine art photography.
I will use, to exemplify my ideas, one of my latest images from the cityscape series I'm working on, the image Rooftop Stories – Chicago Skyline, one of my favorite images which turned out to be one of my most popular images lately.
Most of the photography tutorials you can find are about the technical and processing part of photography but in my opinion in fine art photography, this is not enough. What I try with my tutorials is to break this pattern and talk about more than how to execute an image, but to explore what happens before we get to Photoshop and even before we press the shutter button, what happens in our mind and soul and what creates the vision and the impulse to create.
I am more interested in, and I try to explain to myself and to others who are interested in this aspect, why we process an image in a certain way and how we can transform an idea, a feeling, into the image and make it come alive by using light and shadow. This is what this tutorial is about: not only the how we do what we do in photography, but also and more importantly, the WHY we do it. This differentiation between the "how" and the "why" is one of the reasons I call what I do (en)Visionography and not simply photography. I hope my ideas will resonate with you.
Rooftop Stories is not a single image, but a panorama made of two images stitched together. It is however not a common panorama but a special kind of panorama. In a way, I could say that it is a "distorted panorama". I will explain further on what I mean by the term "distorted panorama", however, I have to state from the beginning that both the fact that this is a panorama as well as the fact that it is a naturally distorted image play an important role in why the final image looks the way it does.
I published the first part of this fine art architectural photography tutorial a while ago, where I presented the more theoretical side of how to create an architecture fine art photograph. Now I'm updating the tutorial with the second part, treating the more practical aspects of creating the image in the field and then in post-processing. I chose to make an update and add the second part to the same article instead of creating a new one, so you can go through the entire process of creation of a photograph without needing to read 2 separate articles. I have also made some updates to the first part so if you already read it, you may want to read it again to get the new info too.
At this moment I'm already working on my next tutorial and some other interesting articles that you will see very soon. If you don't want to miss them you can subscribe to receive my next articles and tutorials by email.
---
Introduction
SUBJECT MATTER
Using architectural subjects versus other subjects in fine art photography
"The ultimate pleasure of architecture lies in the most forbidden parts of the architectural act, where limits are perverted and prohibitions are transgressed."
Bernard Tschumi
As I have stated many times before when talking about what I consider fine art photography, a characteristic of this kind of photography is that the subject is secondary, the vision of the artist being what comes first. Thinking like this helps the artist remove the limits he puts on his imagination and creativity and what creates the best conditions for his talent to manifest. This is the first and most important principle of what I call (en)Visionography and one of the first prerequisites of creating art. You cannot create art while being limited in your interpretation and you cannot create ar if you censor your imagination. However, because what we use to convey our vision is a visual representation of our subjects, when creating fine art photography we have to be aware that there are different ways of working with different kinds of subjects. We have at our disposition different visual tools that we can use depending on the subject we are working with, so we can get the most out of it, in order to better express our ideas.
Each kind of subject has its own rules and its own visual language, and architectural subjects are no exception. Working with architecture requires respecting some specific principles and this gives birth to a very special process of creation.
HOW TO PHOTOGRAPH ARCHITECTURE
Architecture means geometry
Architecture means first and foremost geometry, so we have to be aware that when we create an architectural photograph we are working with lines, shapes, we are dealing with volumes, intersections, and with the nuances of light interacting with these volumes. We are working with space and depth. Working with architectural subjects has its own rules: the rules of geometry and of three-dimensional representation. Knowing and respecting these rules is going to give us much better results when creating fine art architectural photographs or any kind of architectural photographs.
---
Therefore, the first piece of advice I have for you when you work with architecture is to look at the volumes, see them as a combination of lines and surfaces, and try to interpret them so you can use them in combination with light, to convey your vision.
---
One of the first things a photographer wanting to create an architecture fine art photograph has to do is to look at the lines and volumes (seen as geometrical forms) he has in front of him and try to interpret them, find their meaning and interactions.
As a visual explanation of this principle I made a schematic drawing directly on top of my photograph to showcase the general lines that create the volumes in this image and then a second drawing where I also render schematically the main surfaces in the image. Both the lines and surfaces you can see in my sketches create the volumes I worked with in this photograph.
When you look at the image in this way you can understand much easier its composition and why I worked with this composition.
VISION
Triple meaning
To get an idea about how I approach vision when I create an architecture fine art photograph and what can help you discover and cultivate yours so you can find a personal style, you can read my Guide to Vision, a guide that has helped many people, students or readers of my articles to find their way in photography. A more detailed approach you can also find in my book or my new video tutorial. I want to use this occasion to thank again those who wrote me and told me how this guide and my other writings helped them. I'm happy every time I hear about someone who took inspiration from my experience and what I write to take their photography to the next level.
Now back to the analysis of how to create an architecture fine art photograph and to the presentation of my vision, that in the case of this photograph had a triple meaning.
1/ Meaning No. 1 – Using geometry to reverse the way I look at the world
I see this image as my way of looking at the world upside down – in a way that is many times the opposite one would expect from me.
I used to take many long exposure photographs shooting straight up to the sky and in those cases, I would get an intense convergence of the lines that was creating dynamism and a certain drama in my photos. This was a very important component in quite a few of my previous photo series.
Speaking of long exposure, since this is one of the techniques I use extensively in my photography, if you want to learn it you can read my Long Exposure Photography Extensive Tutorial that is a complete guide to this fascinating technique, and you can also purchase my video tutorial Long Exposure, Architecture, Fine Art Photography – Creating (en)Visionography where I describe everything live while talking about architecture photography, fine art and (en)Visionography. The video also comes with an eBook where I present my black and white processing workflow.
So, while I use long exposure a lot, just as shooting ooking up tol the sky, this time though I wanted to do something different, I wanted to reverse the effect, to reverse the angle of view, to reverse, in essence, the way look at the word.
---
The way I am creating this photograph is by replicating the same convergence I would create if shooting straight up to the sky, but this time I am doing this by looking straight down to the ground. This gives me the opportunity to look at my subject (the buildings I photograph), and by extension at the world in a diametrically opposite way than I used to look, and reveals me a completely new facet of the world.
What I do in essence is to use photography to interpret the world in a different way.
---
2/ Meaning No. 2 – Using the light in the sky to suggest contact between worlds
In addition to the use of geometry to present a different way of looking at the world, I am also using light to give a shape to my vision.
---
My intention was to create the bright light in the sky combined with the dramatic clouds, as a symbolic way of showing a small opening towards a different word. The bright light in the sky is like having a sneak peek into a different reality. This is the meaning of the sky looking like this in this photo.
---
Further on, in the section about the practical realization of this image and the black and white processing I used, I will show you how the sky was transformed from its initial form in the RAW capture to the final result. Again, the difference is amazing.
3/ Meaning No. 3 – Using selective bright tones to emphasize the subjects of the photograph
The third meaning of this image was to emphasize each building in part by insisting on their rooftops. The intention was to make the rooftops of the buildings important players in the hierarchy of this image, as a way to emphasize the intention of reversing the world. Except for the composition and the geometry I created in the image, I also used light to emphasize these rooftops, more precisely, I used bright tones so I can draw the eye towards them.
The rooftops now are seen as more important than the bases of the buildings, which are darker. Normally we do not even see the rooftops of the buildings around us, so giving them such an important role in the image suggests a different way of looking at these buildings, and by extension, at the world.
Vision – Conclusion
In conclusion, this image is a metaphor for the way I look at the word. I don't want to look at the word straight in its eyes. I think this would deprive the word of surprise. I need to look at the work in a different way.
---
I need to challenge the word, to challenge myself, to discover something new. I can only discover something new if I look at the world in a different way – different from the way I was looking at it before and different from the way others look at the world. This stands at the base of why I create photography.
---
Creating fine art photography versus applying visual effects
If you are familiar with my fine art photography philosophy, with (en)Visionography as a new way of creating photography, you know that I consider fine art photography the photography that is born from the vision of the artist and based on his experiences and sensibility.
While this might seem an abstract idea, it is, in fact, a very practical one. What I mean is that, since the way we express our vision in our images is by working with composition and then with light and shadow, this means that the way we use composition, the way we use light and shadow, the way we use bright and dark tones, the specific areas we decide to enhance or to conceal, have to be all related to the vision we have for that specific image.
Nothing of what we do in an image should be random or used only for the sake of the effect. Every point of view, every line, and every trace of light or area of shadow have to have a meaning: a meaning related to what we want to show in the image. If what we do doesn't have a solid base in our vision then it is just a mere effect used to impress the viewer and not fine art.
This article enunciating 5 tips for creating original fine art photography will give you more insight into what I think helps us create real fine art photography and not replicate popular effects.
---
Art is based on vision and not on visual effects, no matter how smart those effects might be. If you don't tell a story through your photograph if you don't tell YOUR story, then what to create it is just a nice catchy image, not fine art photography.
---
COMPOSITION
Compositional Layers
In order to create a compelling and meaningful composition in an architectural fine art photograph you need to start from incorporating in your composition two main elements:
1/ YOUR VISION
2/ PRINCIPLES OF GEOMETRY
Respecting the principles of geometry will give you a harmonious and powerful image, while incorporating your vision in the composition you create will add the fine art element to the image and make it unique and authentic.
In order for you to understand better the compositional principles I used in this image I have made an analysis and presented them directly on the image in a straightforward visual way that speaks for itself. As you can see the structure of the image is based on the idea of relative symmetry and the intention was to keep the viewer's attention inside the scene and focus on the rooftops of the buildings and the bright light in the sky, as the main components of my vision.
What I do to create an architecture fine art photograph with harmonious geometry and composition is to use lines and volumes, light and shadow to create a circular movement in the image so the eye travels all over the photograph and, after a complete tour, it comes back to explore some more. I am using intersections, leading lines and different important elements in the image, like the tall buildings, the bright sky, or the rooftops to create different reference points in the image that will guide the viewer on its way.
The compositional principle of this image is that the compositional relationships have been laid out in layers and these compositional layers work both independently as well as in interaction with each other.
Have a look at the visual analysis of the composition and try to follow the path I created in the image.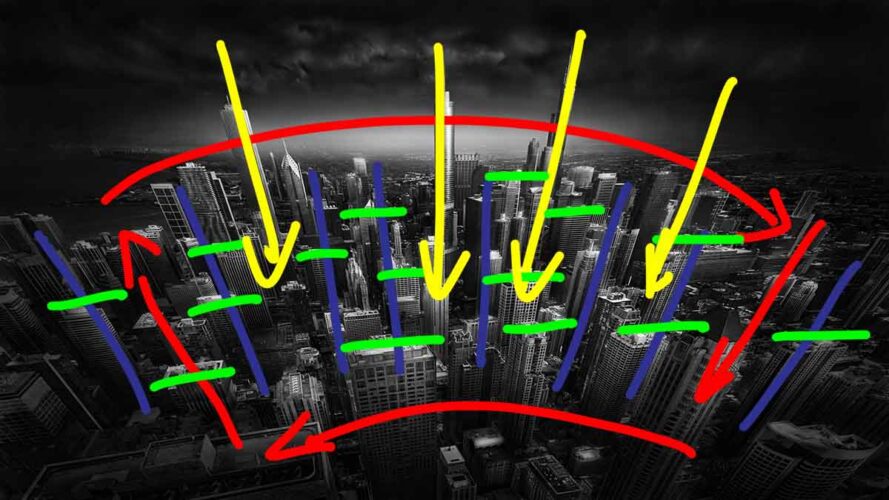 TECHNIQUE
The method and tools I used to create the image
Now, after I told you a little bit more about how I create an architecture fine art photograph from a philosophical and theoretical point of view, I'll continue with some more concrete things about the creation of this image, discussing about some of the best architectural photography techniques.
I will do this with some other images that are more interesting from the point of view of their creation. If you don't want to miss them, you can subscribe to receive my future articles and tutorials.
Creative geometry with the tilt-shift lens
As mentioned in the beginning, Urban Saga III – Rooftop Stories is not a single image, but a panorama made of two images stitched together. The image is not a regular panorama but a panorama that I could call a "distorted panorama".
When I say this is a distorted panorama, what I mean is not that it is a distorted panorama by hazard or that it presented geometrical distortions that I had to deal with, but it is a panorama intentionally distorted by me in camera so I can create an effect I needed to express my idea. What I did to create this distortion, which is for me the essence of this photograph as for its geometric structure, is that I used the tilt-shift lens to create this distortion. In short, what I did was to use the tilt-shift lens moves in the opposite direction that I would normally use them to straighten verticals (which is the common way of using the tilt-shift lens), in order to create an unexpected effect. I chose not to use the tilt-shift lens as it is generally used, to correct a geometrical distortion, but I used it in a creative way, to, in fact, exaggerate that geometrical distortion so I can create a different kind of emotion.
As I mentioned when the first part of this fine art architectural photography tutorial was published, I will explain now more in detail how I used the tilt-shift lens to create this effect and also show you below how the scene would have looked if I shot it in a traditional way. As you can see, the difference is amazing.
How to set up the tilt-shift lens to create a reversed converging effect
This is how the tilt-shift lens was oriented in when I made the two captures of the panorama. I used this set up in order to create this "reversed converging effect", as I call it, where the buildings look like they are emerging obliquely from the ground, as if tied up together in a bouquet-like structure.
Concretely, what I did was to shift the lens in the opposite direction than the direction I would shift it if I wanted to create an image with parallel verticals. The result is very special and it can't be replicated with any other lens or set up, except for the case you are using a view camera instead of a tilt-shift lens.
You know by now that I like to use my tilt-shift lens in exactly the opposite way than they are normally used. Why? Because I like to challenge myself. Because I think art means looking at things in a different way.
This is for me a very good example of what I mean when I say that gear is useless unless it triggers creativity and helps you create original work.
For more clarity on how a tilt-shift lens works and how you can practically use it, read my essential guide to the tilt-shift lens or find even more details in my book.
The difference between using the tilt-shift lens in a conventional way versus in a creative way
You can see below how this image would have looked if I was shooting it in a more conventional way, meaning using the tilt-shift lens to correct the verticals and make them parallel. What do you think? Quite conventional, right? It has been done many times before. I've done it too and I like these aesthetic, but I was aiming for something different this time. Now compare the conventional image with my vision and its materialization into my "distorted panorama" and you will understand why I needed to create something different this time.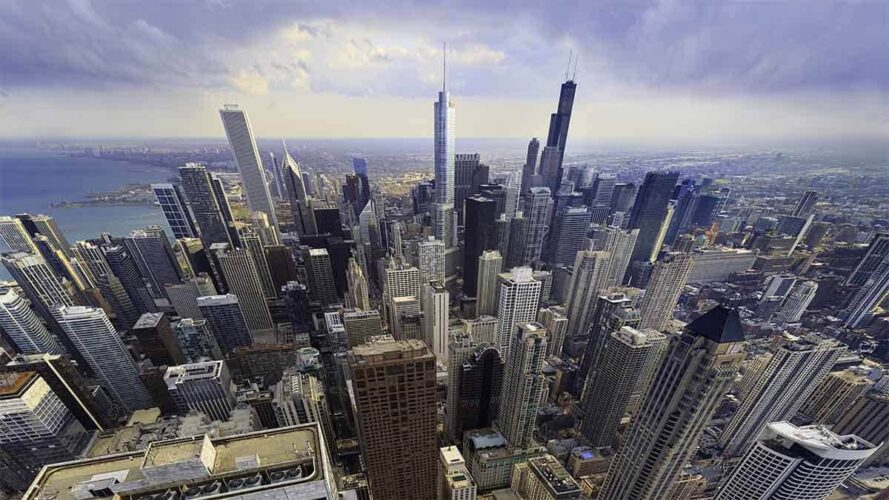 The creation of a panorama and the tilt-shift approach
Using the tilt-shift lens is not the easiest way of working with a panorama. It is actually one of the most difficult.
But how should you work if you want to create a panorama? There are a few rules that you will hear if you want to work with a panorama.
If you are familiar with working with panoramas, you know that one of the first things that is recommended is to set the camera on a tripod when you make a panorama so you have the least distortion and so you can control your field of view much better.
Using non-wide-angle lenses
Another thing you would be advised if you wanted to work with panoramas is to not use wide angle lenses and in no case to use ultra wide angle lenses as the 17mm TS-E I used on a Canon 5D MK3.
Avoid the parallax effect
You will be told that if you choose to use wide angle lenses, and especially ultra wide-angle lenses you will very probably get the parallax effect.
What is the parallax effect?
It is when you should with a wide angle lens and because of the deformation you will have in the difference between foreground and background, when he stitched images together you will have problems to align your images because the shape in the place of the objects you have especially in the foreground have changed from an image to the other.
Keep your camera parallel with the scene
In order to get the least deformation, you should position the sensor of your camera as parallel as you can with the plan of the scene you are photographing. This will ensure that when you are penning the camera to take the shots they will overlap without problems.
Overlap to it and tickle areas of the image
You need to do this so Photoshop understands the scene better and stitches the images in a better way and without deformations. This is a serious help you can give to Photoshop and not doing this can cause you quite some pain when stitching your images.
In order to get as much detail as possible and to cover a larger surface of your scene, the best way is to use your camera in portrait format when you are shooting a panorama.
There are other pieces of advice that you would be given if you wanted to shoot a panorama, like using a special panoramas head on your tripod or a cable release to actuate the shutter, but these are the most important of them.
What did I do? Well, I didn't do any of the above, or at least I didn't do most of them. Because many times when you do those things that you are told not to do, a huge world of creative possibilities is opening in front of you.
I didn't use a tripod, I didn't use a medium length lens, I didn't avoid the parallax effect, I didn't keep my camera parallel with the scene, I didn't shoot vertically. Actually, I did exactly the opposite to most of these. I shot handheld, I tilted my camera and my lens as much as possible related to the scene, I shot horizontally, not to mention I shot through glass. I could say I broke all the rules of a great panorama or any architectural image. But despite this, I love the result and I'm not the only one. This is one of my most popular images to date.
---
What does this show me? Ignoring all these rules, or breaking them consciously and still getting the image I envisioned, or rather getting the image because I broke the rules, shows me that creativity overpowers technique and that there is never only one way to do something.
---
Have a look at the two images that I captured and you will see how much I ignored the rules and especially the rule of overlapping two identical areas of the scene. Because of the ultra wide angle lens I'm using, the moment I turned around to take the second shot my perspective has changed dramatically so the two images look almost as if they were taken from 2 different angles.
Stitching a panorama in Photoshop
After you take your shots for a panorama in the field, the next step is to bring them to Photoshop and to stitch them to a single panoramic image that will combine the two or more separate images that you have shot. It is a quite straightforward and intuitive process and you don't need to have a lot of Photoshop knowledge to do with it. You can even open the images from Lightroom directly to Photoshop and stitch them there.
Here is the result of the stitched image.
In case you have some deformations in the stitched image you will need to take care of them and if you ignore all the rules, like I did when I shot my images, you will need to do some retouching in Photoshop so the images fit together in the best way and you don't have strange things happening. This may be a bit tricky but also interesting to work on. I see it as a game. You know those games that we were playing when we were kids when you had to find the differences between two images? Well, it's pretty much the same, just that in this case you need to find the differences between a normally looking stitched image and the image you have in front of you that may have a few "defects". You need to find those small defects and retouch them so the image looks natural. Most of this work is going to be done with the clone stamp tool especially if the problems are not extended. They weren't extended in my case so after a few tweaks and after playing a little bit with the color image in the Transform tool to rectify some strange perspective effect, and some touching up in the sky to make it more uniform as texture, you can see now how my final color version was looking before converting it to black and white in Photoshop.
Black and White Conversion
When I create an architecture fine art photograph, I do my black and white conversion in Topaz B&W Effects . Here is a Topaz Labs B&W Effects 2 Full Review I did and just updated recently, if you want to learn how to work with this great plugin that I consider the best black and white plugin.
BW Effects is going to help you get quite far with the processing but in my Photography Drawing workflow, this is only a step as no plugin is going to get you the amount of control that Photoshop does when it comes to working with details. However, the good thing is that it will take you quite far on this path so you have less to work in Photoshop.
Here is the image I have after using the Topaz BW Effects plugin. I intentionally kept is a lower contrast image so I have even more freedom of creation in Photoshop and be able to control light and dark tones better.
The principles I follow in creating a black and white photograph are those I talk about in my complete guide to black and white photography.
Creating the signature look of this image – The horizon highlight in the sky
What makes this image special, in my opinion, is, besides the dynamic unexpected perspective, also the highlight I created in the sky. These two elements are the essence of this image and what I chose to be the main elements that would convey my vision.
It is very important that you decide early in the process of creation of the image what are the main elements of your story and what defines the soul of the subject and of the image by extension, so you know how to emphasize them to convey the emotion you feel when creating the photograph.
What I did here was to use the sensation of infinity the bright sky at the horizon ave me and bring it into my mage by highlighting the horizon and making it glow. I created this effect by working with luminosity masks and the Dodge and Burn tool.
Advanced black and white processing – Working with Photography Drawing (PhtD™)
The backbone of my black and white processing is the selective treatment of light. Roughly said it is the equivalent of Dodge and Burn in the traditional darkroom, combined with classical drawing with a black pencil, but the technique is more advanced and much more effective due to the ease of using an editing software instead of the more complex tools of a classic darkroom or of a drawing pen that needs special dexterity and advanced skills to result in impressive results. This method is what I call Photography Drawing and its end result is the creation of light and shadow in the image by using a simple but highly effective processing technique.
Starting at the beginning this is how the initial adjustments I made to this image look.
I'm only using curves adjustments in the beginning or the end as general adjustments.
The core of my processing is working selectively on my subjects so I can bring out the play of light and shadow on their surfaces, which gives them shape, depth and convey the emotion I feel I need to communicate.
I communicate my emotions by using light and shadow. I don't need anything else because light and shadow are for me a special personal fine art language. I use them in my own way so to create a personal language to communicate. I'm writing more in detail about this in my book From Basics to Fine Art – Black and White Photography – Architecture and Beyond in Chapter 7: Personal Style in Fine Art Photography, where I explain in detail my theory about personal languages and how to teach your own personal fine art language to your audience.
The second good resource for studying fine art black and white photography is my video course Mastering Black and White Photography Processing – From Vision to Final Image that comes together with the eBook "Ultimate Guide to Black and White Fine Art Photography", a course that analyses in-depth my personal processing method for creating three-dimensionality in photography that I call Photography Drawing.
The third good resource for studying fine art black and white photography is my video tutorial Long Exposure, Architecture, Fine Art Photography – Creating (en)Visionography that is accompanied by the eBook "Advanced Black and White Processing with the Method of Photography Drawing"(my personal processing method), a tutorial that drives you through the process of creating fine art photography, (en)Visionography, and analyzes the ways you can practically express yourselves artistically from a practical point of view.
I am now on my way to creating the final image and this is one of the intermediary steps. As you see the light starts to shape the volumes but there is still a long way until my vision is complete. I need to keep on working on details to create the perfect balance between black and white, comprising all the gray tones in between.
Working with selections and intensities of light to create emotion: Drawing with light on your photograph
From here on it's all about working on the details and balancing light and shadow in a selective way, while being careful to respect the shapes of the buildings and the way light affects the volumes. Working with selection is important to have the most control, so the more accurate your selections will be, the more subtle the processing and the deeper the emotion you can create. You need a certain amount of time and patience if you want to get into detail but it absolutely pays off in the end.
It is not very easy to explain all this in writing without writing an entire book here, but if I do that everyone will fall asleep before they finish reading. it's better that I create a video tutorial to show you my workflow in detail. Stay tuned and subscribe to the blog and I will let you know soon in a future post when I will do this tutorial.
You can work on different layers or on just one. You can work on Dodge and Burn layers or directly on the image. The first will be a more non-destructive process but the latter will be a more intuitive one. Depending on your style you can use Photography Drawing in different ways and this is what makes this method great, that it adapts to so many processing styles and by extension to so many artistic styles.
Below you can see part of my work with light and shadow. This is a dodge and burn layer but you don't necessarily need it. Just imagine you have a piece of paper in front of you and a pencil in your hand and you are creating shadows on the paper with the black pen while the white of the paper will create the highlights. Very close to the technique of dodging and burning when you print in the darkroom if you are familiar with it.
You have all the freedom when you work like this, and as long as you know what to do with the light and shadow, nothing can stop you create the best black and white fine art architectural image. Read the Photography Drawing chapter in the book to learn how to do that, or get a first idea about it in my Photography Drawing (PhtD) blog tutorial.
Is a Wacom tablet needed to create an architectural fine art photograph with my Photography Drawing processing technique?
If you use a Wacom tablet and a pen to work with this technique and render the image it would be more intuitive and easier to control, but you can do the same with a mouse if you are experienced with it. I prefer the tablet and the pen because it reminds me of drawing and it allows me to use my skills, and because the Wacom pen is pressure sensitive and this brings it even closer to a real pen, but I have done the same for years with just a mouse. You may have some moments of frustration and even some intense dialogue with your mouse, but it can be done. However, if you can spend some more and get a Wacom tablet it will help you refine your work even more.
And here is the final result next to my initial black and white conversion. You can see what you can do with having a vision for your image and applying Photography Drawing to process it.
All my students have told me that this is the easiest to use and most intuitive processing method they have ever used or come across and this is because it is based on clear notions and on knowledge and skills that we all have in an instinctive way and all we need is to learn to identify, understand and use it. This is what I teach at my workshops and mentoring courses and the results I see in the work of my students always blow me away and show me that creativity has no limits and if you have the right tools and the right guidance, nothing can stop you to become a great artist showing to the world your own style and personality.
Technical Data
Technique
2-Shot Tilt-Shift Panoramic image.
– Camera settings:
1/40 @ f/7.1, ISO 100
Equipment
CAMERA: Canon 5D MKIII
LENS: Canon TS-E 17mm f/4 L
Tilt-shift lens settings: 12mm – maximum shift (fall)
Black and white processing software
– LR5, PS CC , Topaz B&W Effects (Topaz Labs B&W Effects 2 Full Review) +Topaz DeNoise + Topaz Detail + DxO View Point
Conclusion
As you see, there is much more to a fine art architectural photograph than the processing part. This is why I spend in creating the idea of an image just as much time as I spend with processing the image, if not more.
If you want to create an architecture fine art photograph, fine art in general, I would suggest you to start by spending time with your image, with imagining the final result and what you want to create, and only start worrying about processing the image when you have a very good idea about what you want to express with it. This will make your image authentic and original. Try not to use processing effects only as tricks or easy ways to make the image grab attention and always remember that what will keep the viewer longer in your image is not a processing trick but your vision showing in the photograph you create. I hope this fine art architectural photography tutorial was useful to give you some ideas and tips on creating fine art architecture images.
FURTHER STUDY RESOURCES
FINE ART BLACK AND WHITE PHOTOGRAPHY, ARCHITECTURE PHOTOGRAPHY, LONG EXPOSURE PHOTOGRAPHY
Find more resources about fine art black and white photography, (en)Visionography, long exposure photography and architecture photography in Julia Anna Gospodarou's extensive collection of photography tutorials. To receive free future tutorials, you can subscribe here.
Learn more about how to create fine art photography, from vision to processing and the final image in Julia's video course From Vision to Final Image – Mastering Black and White Photography Processing, in the video tutorial Long Exposure, Architecture, Fine Art Photography – Creating (en)Visionography, and the book From Basics to Fine Art – Black and White Photography, or by attending one of her highly appreciated workshops.
Find Julia's recommendation for the best software and gear to create fine art photography and curated deals and discounts for these tools.
To study with Julia Anna Gospodarou personally, find out about our
Support our mission for quality photography education. Donate!
We believe in knowledge, education, and the freedom of spirit that creates great art. We believe in art and artists.
Please donate to help us continue sharing free quality photography education and inspiration.
For more than one and a half decades, we have been sharing free content on fine art photography, black and white photography, architecture photography, long exposure photography, as well as our original concepts of "(en)Visionography" and "Photography Drawing".
Thousands of photographers started their journey in fine art photography here and found inspiration and practical resources that empowered them. Many have won awards for their work and are making a career in photography based on knowledge acquired from our free tutorials, books, courses, and workshops.
This makes us incredibly proud of our work.
To empower even more photographers to reach their dreams, we want to keep this resource free forever so every new or advanced photographer can have access to knowledge, quality photography education, and inspiration.
To help us in our efforts, please consider becoming a patron of this cause with your recurring donations.
You will be part of a generous effort by other exquisite art and photography-loving patrons, and you can be proud of being a supporter of art and artists like the famous Maecenas of the past. Art and artists need your support, as always in the history of art and photography.
Thank you!
Julia Anna Gospodarou – Founder – (en)Visionographer
Founder of (en)Visionography™ and creator of Photography Drawing™, internationally acclaimed fine art photographer, architect, educator, and best-selling author, with 25+ years experience in photography and architecture, Julia Anna Gospodarou is a leader in modern fine art photography who shaped with her work the way architecture fine art photography looks today.
Awarded more than 100 times in the most important photography competitions worldwide, two-time International Photography Awards IPA Photographer of the Year, World Photography Awards SWPA, and Hasselblad Masters Finalist, her work was widely exhibited and published internationally.
With a passion for the world's civilizations and speaking five languages, Julia was always in the avant-garde of thinking as an architect and a photographer, constantly pushing the limits of what is possible, constantly reinventing herself as an artist and an individual. Her huge love for travel and discoveries and her passion for teaching, art, and photography led her to become in the past one and a half decades one of the world's top-rated fine art photography educators and workshop organizers.