HOW TO PREPARE FOR A LANDSCAPE PHOTOGRAPHY TRIP OR WORKSHOP – COMPLETE GUIDE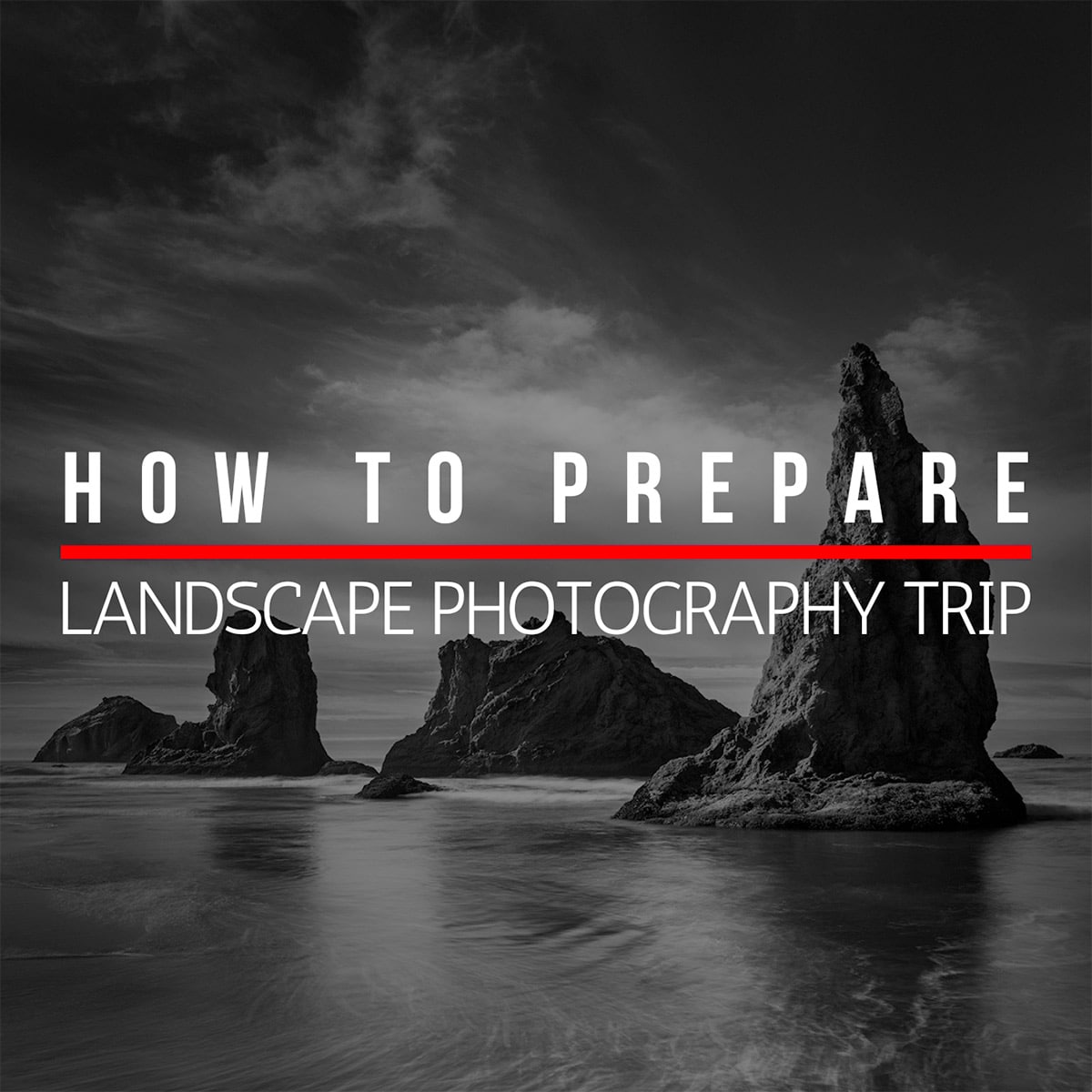 COMPLETE GUIDE TO HOW TO PREPARE FOR A LANDSCAPE PHOTOGRAPHY TRIP OR WORKSHOP
In this complete guide to how to prepare for a landscape photography trip or landscape photography workshop, I will talk about all the things I consider important to do for your trip or workshop to be a safe, successful, and enjoyable one. From discussing practical aspects of preparing to photograph in nature, how to use your gear when you shoot outdoors, how to make the best of the weather conditions, all the way to how to define your vision and decide the images you will shoot, so they express your style and your own artistic self the best.
This guide is, to my knowledge, the most complete guide to how to prepare for a landscape photography trip or workshop available freely online at this moment. Many of the things I mention here can be applied to any kind of photography trip, for instance, architecture photography, urban or street photography, so if you don't usually shoot landscape, don't worry and keep reading, as you will get many useful ideas. And who knows, maybe your next trip or workshop will be a landscape photography one.
Except for this guide, I have created several complete guides to different aspects of photography, which have helped many photographers. If you want to consult them, have a look at my tutorial section.
I will be adding information and ideas to this guide as I go, so if you want to learn more about landscape photography and how to best prepare to do it, subscribe here to receive any new additions to this guide, as well as any new free tutorials I will be releasing in the future.
In a few weeks, I will travel to meet my students at my upcoming fine art landscape photography workshop on the majestic Oregon Coast. If you want to join us, I would be delighted to meet you and guide you on this trip or any of my international photography workshops and trips.
So, if you are joining me on any of my workshops or just planning a trip on your own, to help you get ready for a landscape photography adventure, I think it would be a good moment to talk in this article about how to prepare for a landscape photography trip or how to prepare for a landscape photography workshop. We will dive into the secrets of how to prepare practically, as well as how to prepare your mind and soul for a great photography and exploration experience, so you can enjoy it to the fullest while coming back with plenty of amazing photos.
INTRODUCTION
WHY MAKE A LANDSCAPE PHOTOGRAPHY TRIP – GO BEYOND PHOTOGRAPHY
The short answer is, of course, to capture photographs of the landscape. But there is a longer answer to this question, and I will try to offer an answer to this here – my answer and the reason why I travel to shoot landscape photography.
If you can't wait to read about the practical part, you can scroll down to that and skip this chapter, but if you have a moment to spare, I think it will be useful to keep reading as it will give you some inspiration and help you find your own artistic motivation in your landscape photography.
Why travel far away to photograph instead of creating an AI image on your computer?
Maybe some of you will wonder now, considering the explosion of AI-generated images we can see everywhere lately, why would we even go on a photography trip? Why would we put in so much effort, money, and time if we can create any image we want just by using AI?
The answer for me is simple. Because it is NOT about the photograph. It is about the EXPERIENCE.
Yes, you heard me right! Photography is not about the photograph. Photography is about the experience that creates the need to make the photograph.
We don't do photography for the photograph. We don't even do photography for the subject we photograph. We do photography for ourselves. We do it because we need to express what we have in our minds and our souls. This is why the experience, the personal experience, is much more important than the photograph. The experience is what triggers the inception of the vision, and the vision is what gives birth to the photograph.
So this is why it is worth going on a photography trip instead of sitting in front of your computer and creating AI images. Of course, you can do that too, but that will never replace the experience you would have going on a real photography trip and taking photographs of your experience. That is something I would never give for all the amazing AI images I could create.
It is NOT about the photograph. It is about the EXPERIENCE.
Photography is not about the photograph. Photography is about the experience that creates the need to make the photograph.
Why Landscape Photography?
Landscape photography, especially fine art landscape photography, is about the poetry of nature and the privilege we have, as photographers, to be part of that and witness the moment of inception of this poetry. In the vast open realm of our world, there lies a space where art and nature intertwine, inviting our souls to embark on a journey of self-discovery and creative enlightenment. A landscape photography trip offers a unique opportunity to delve into the heart of our natural wonders, uncover the mysteries that lie beyond the surface, and create a bond with the pure beauty of the wilderness.
As a landscape photographer, each time you go out in nature, you will find yourself exploring the untouched landscapes that stood the test of time, embracing the wilderness that remained untouched by human hands. While doing that, you will discover that the journey of a landscape photographer is so much more than just capturing images – it is an immersive experience in the soul of nature and our own soul.
In this ever-connected digital age, we often find ourselves longing for a deeper connection with the natural world around us. A landscape photography trip offers just that – an escape from our daily reality, a chance to wander among towering trees, meandering rivers, and majestic oceans and mountains. A space where we can let our imagination run wild and feel the profound sense of freedom that only the natural world can give us. We literally discover a different world than the one we live in when we are in the city.
I, for one, am fascinated by this feeling of freedom and self-discovery I have when I am in nature. Even if I haven't talked extensively about this in the past, I always try to incorporate nature and landscape photography in every trip I make, even when I am traveling for an architectural photography assignment or workshop or when I am generally shooting in the city. I always need both aspects of experiencing photography and life to feel in balance and fulfilled, to feed my imagination and uncover the truths of this world we live in. This is a big part of why I need photography – to help me answer the questions I have about the world and put those answers in a form that I can understand and I can share with others so they can be a part of this intense experience.
When you are out in nature, with each image you shoot, you immortalize a moment in eternity, a moment of beauty that will never come back. The beauty of nature unfolds in front of you, and you feel deeply grateful to have the privilege to live on this Earth and be able to experience this. It is a transformational experience at the personal level, in addition to a photographic and artistic experience.
Beyond the visual experience, the value of a landscape photography trip or workshop lies in the discoveries that extend far beyond the boundaries of the frames you shoot. It is a journey into the self, a chance to delve deep into our inner being and confront our vulnerabilities as artists. Photography becomes a mirror, reflecting our innermost emotions and thoughts, capturing the essence of our very souls with each photograph we take.
In this journey of self-perfection, nature becomes both an inspiration and a mentor. The serenity of a lake can symbolize our inner peace, while the ocean waves crashing against the shore embody the storm within. The more we immerse ourselves in the landscape, the more we become attuned to the mysteries of life, which helps us better understand our own self.
As we embark on this adventure, we delve into a spirit of exploration that extends beyond the act of photography. The journey into nature unravels the facets of our creativity, as well as the nuances of our lives as human beings.
This all means that, by making this journey, we will create, as I like to say, more than photography. We will create (en)Visionograpy and offer ourselves an experience we cannot replicate otherwise. Photography is, for me, a means to fulfilling my artistic path in this world, as well as fulfilling my duty to honor the Earth and life itself. It may sound like an abstract goal and meaning, but its roots and outcome lie in concrete reality: the reality we experience and photograph.
So, as you prepare for a landscape photography workshop or a landscape photography trip, prepare to go beyond making photos, go beyond photography, and let your heart be your guide. Embrace the mysteries that lie ahead, as beyond your camera, you will find a world of beauty, self-discovery, and artistic growth. Step into the wild unknown, and you will come back not just with photographs but with a profound sense of fulfillment that only nature and photography combined can give you. This is the ultimate experience – where we capture both the magnificence of the world and the essence of our own soul.
LANDSCAPE PHOTOGRAPHY TRIP BY YOURSELF OR LANDSCAPE PHOTOGRAPHY WORKSHOP
And now, after doing a bit of research into what creating landscape photography means beyond making images and what it triggers in our souls, let's turn toward some more practical aspects of preparing for a landscape photography workshop or a landscape photography trip in general.
Landscape photography trips come in all shapes and have various degrees of complexity, from simple to very complex. Just like a trip in nature may be a simple walk in the forest nearby, but it can also be climbing the highest mountain peak, landscape photography trips can be just as varied. From shooting seascapes on a gentle seashore close to home, for instance, all the way to shooting the ocean during a one-of-a-kind winter storm, or shooting on a remote mountain peak in the middle of the wilderness, landscape photography can be just as exciting and worth pursuing. Depending on the level of difficulty, you may need more or less preparation, but regardless of what kind of landscape photography experience is your cup of tea, some traits are common to all of them. There are things you may not need to do on a less complex trip, but are good to know as general information to give you a more spherical view of landscape photography trips in general.
If you are an experienced traveler, outdoors person, and landscape photographer, you may decide to make a landscape photography trip you plan yourself and go on alone. This may be the choice when you know very well what you are doing and when you know that you can rely only on yourself to do the research and planning, find the best spots to photograph, decide the best times, and also know that you can stay safe by yourself during the trip. Planning and making such a trip is a complex undertaking, however, if you have the experience, knowledge, time, and patience, you can do everything yourself, which can be a very good experience. To improve that experience, you can find many good pieces of advice if you read further.
If you, however, are not very experienced with being out in nature or with landscape photography, the best is to take a landscape photography workshop with an instructor you trust and who has a good reputation. The instructor will take care of studying the area, finding the best spots to shoot, ensure that the trip will be safe and enjoyable. Plus, you will learn new things from your instructor and other fellow photographers. There are many advantages to taking a landscape photography workshop, and in case it is your first foray into landscape photography, I would say it is the best so you can learn things right and much faster.
I will try to cover both cases in this article, making the landscape photography trip by yourself and taking a landscape Photography workshop.
Following, I will talk about the most important aspects of preparing for a landscape photography trip or a landscape photography workshop.
MOST IMPORTANT ASPECTS OF PREPARING FOR A LANDSCAPE PHOTOGRAPHY TRIP OR WORKSHOP
1. Scout the Locations
This is one of the first and most important aspects of preparing for a landscape photography trip or workshop.
Even before reaching your destination, scout the entire area and especially your shooting locations online to get an idea of what you will encounter on site. You can do very effective digital scouting on Google Maps and Google Earth, as well as on special photography apps like the classic Photographer Ephemeris or the very versatile Photopills.
Once you arrive in the area where you will be shooting, go beyond online research and physically scout your shooting locations before the actual shooting sessions. Visit them during different times of the day to assess lighting conditions and potential compositions. Take notes on each spot's best vantage points, angles, and focal lengths. This on-site survey ensures you arrive at your location workshop well-prepared to capture the full potential of the landscape.
When you participate in a workshop, the instructor will have already done the scouting for you, so you will be in a much better spot, but this doesn't mean that, if you can, you shouldn't do some scouting yourself, so you familiarize yourself with the area and get even better shots. If you have the time, consider doing some scouting before the workshop, even if you won't be able to scout all the locations.
2. Research the Morphology of the Land
Well ahead of your landscape photography trip or landscape photography workshop, take the time to familiarize yourself with the geographical characteristics of your destination. Study online terrain maps and satellite imagery to understand the features of the land, identifying potential viewpoints and compositions.
Depending on the type of land you will be shooting, look for geological formations like rocks, sea stacks, mountain peaks, arches, canyons, waterfalls, or vegetation formations like tree clusters, a particular species of trees specific to the area, or some unique elements that make the area stand out. These natural highlights can become your subjects or backgrounds, adding drama to your photographs.
Understanding the morphology allows you to anticipate how natural elements interact with light and shadows, helping you plan your shoots effectively.
If you are going on a landscape photography workshop, study the areas the instructor chose for the workshop and get as familiar with them as possible. Try not to rely only on the instructor when it comes to what to shoot and where from.
Studying the possibilities ahead of time will help you get shots that are more in line with your own style and artistic vision, which can be different than the style and vision of your instructor, or of anybody else, for that matter.
3. Study the Trails and Navigation Tools
Before hitting the trail, study the routes and terrain thoroughly. Download maps and navigation tools to your phone, even if you expect cellular coverage. Familiarize yourself with landmarks and key points along the trails, and be prepared to navigate offline if necessary. Always let someone know your planned route and expected return time for added safety.
A very useful app I am using on my landscape photography trips or when hiking off-road, besides Google Maps, is AllTrails, one of the most comprehensive and updated apps featuring thousands of hiking trails all over the world. The app has a free plan, but I would recommend the Premium version that lets you download the trails to use when offline on the trail.
4. Safety in Diverse Terrain – Study the Tide Times
Familiarizing yourself with the terrain and scouting the locations will also help you stay safe once arriving in the natural area you want to photograph. In addition, it is a good idea to do some research related to the safety guidelines specific to the terrain you'll encounter, be it ocean shores or mountain trails.
Learn about tide patterns, and be aware of high tide times to avoid being trapped. If you are shooting on a beach where the sea level varies substantially, as when you shoot on the ocean shore, knowing the tide times is essential. If you walk on the beach to get to a certain location, always ensure the rising tide will not block your way back, and always give yourself enough time to return to higher ground before the ocean level rises. Never underestimate the power of the sea even when its level is low, and believe that you can walk back through the waves. That is dangerous, and you want to avoid it at all costs. The waves can bring along debris or tree logs that can sweep you off your feet. So keep an eye on the tide times and don't underestimate the dangers.
In the mountains, be mindful of wildlife, like bears or mountain lions, and carry bear spray or noise-making tools. For instance, many good photography or hiking backpacks have a whistle incorporated in the shoulder strap that you can use to make noise. Have a look now at your backpack to find it, in case you aren't aware of this feature. If you don't have one, you can carry a small whistle with you when you are out in nature.
5. Safety in Remote Areas
Though rare, unforeseen circumstances can occur. To be prepared, especially when traveling away from civilization or hiking in remote areas, carry a basic survival kit, including a first-aid pack, multi-tool (or Swiss Army knife), fire starter, and emergency shelter or a simple thermo survival blanket (those thin golden foils that you can use to stay warm in emergencies). Familiarize yourself with navigation techniques, and carry a physical map as a backup. Especially in areas with limited or no cell service, or if you travel somewhere really remote a GPS device is a good idea.
To be sure that you have the best cell coverage when you travel in a foreign country, and reasonable rates too, buy a reliable SIM card for your mobile phone. Sometimes you can use your existing mobile phone plan abroad for the same or reasonable fees, like for instance if you live in the European Union or UK and travel inside the borders of the European Union and UK, due to the policy "Roam Like at Home". However, if you travel further away or in a country where your cell plan does not work or it is too expensive to use (don't ever underestimate how expensive it can be to use your cell abroad), it is important that you buy a local SIM card to have cell coverage and Internet during your trip for a reasonable price. You can generally pick that up from the airport or from a cell phone provider or store that sells SIM cards at your destination, so it's fairly easy to do it.
From my experience, buying a SIM card from a well-known national provider of the country you travel to gives you the best coverage. Generally, the budget options you may find, that may work very well when you're inside cities, can be tricky to use in more remote areas, and you may end up not having cell coverage at all. I've been there so I can tell you from my own experience. Happily, the one time it happened to me, I only made a one-day trip outdoors during a more extended city photography trip, so it didn't impact me too much, but I learned my lesson, and I want to share it with you because I know how important it is.
Also, make sure you have a power bank with you to recharge your phone, smart watch, and whatever other dvice you need during the time you are away from power outlets. All these devices use a lot of battery, especially when using navigation tools, so having a backup recharger is always useful. You can either choose a recharger that gets recharged from a power outlet or a solar power bank that can get recharged while you are hiking outdoors.
A good idea is to also inform someone trustworthy about your itinerary and expected return time for added safety.
While most of you will not launch yourselves into the total wilderness and may not need all this survival equipment, at least knowing a few things about it and having a few essential items with you will be useful.
6. Stay on the Trail & Beware of Wind Gusts on the Ridges or Cliff Edges
Make sure you stay on marked trails to avoid getting lost, and adhere to the park or natural area regulations to protect both yourself and the environment. Staying on the trail can make the difference between safety and extreme danger, especially on rugged terrain like up in the mountains or on abrupt ocean or sea shores.
You don't want to be that landscape photographer in the news who got injured or worse, trying to take a photo from the edge of a cliff. One thing you need to be very mindful of on a ridge, the edge of a cliff, or any formation that has abrupt slopes is that even on very calm days, wind gusts can form out of nowhere, and you can get swept off the edge in a fraction of a second, before being able to react or even realize what happened. I consider this the most significant danger of shooting from abrupt cliffs and edges. This, and slipping off the cliff when you step on muddy terrain or slippery dry, dusty, or sandy edges. So, please, STAY OFF THE EDGE!
7. Strive to Preserve Wildlife & Vegetation – Follow the Leave No Trace Principles
When venturing into nature as a landscape photographer, you become a spokesperson for the environment and are responsible for protecting its ecosystems.
In this capacity, follow the Leave No Trace principles, be mindful of the vegetation and wildlife you will encounter, and treat it in an ethical way.
Try observing animals from a respectful distance and using telephoto lenses to capture them without causing disturbance. Be patient and allow wildlife to move naturally, avoiding provoking specific behaviors for the sake of a photograph.
Be mindful of the impact your presence may have on fragile vegetation. Aim to minimize your footprint as much as possible by refraining from picking flowers, removing rocks, or altering the landscape. Make sure the natural balance remains undisturbed by your presence.
And, of course, be mindful and dispose of waste responsibly – never leave it out in nature, but place it in adequate bins or take it with you when you leave.
If you want to study further, here are the 7 Leave No Trace principles on the Leave No Trace website.
By approaching nature with humility and respect, you not only celebrate its beauty but also contribute to the preservation of biodiversity in the land you photograph. Each photograph taken with this attitude in mind becomes a testament to the wonders of the natural world and a gesture of gratitude for the privilege we all have to experience these wonders.
8. Wear Adequate Outfit and Footwear
Proper outfits and footwear are vital for a safe and comfortable landscape photography trip. Use good quality, resistant outfits and footwear, which you can rely on to keep you warm, dry and give you flexibility.
Layering is key, allowing you to adapt to changing temperatures throughout the day. Layer your clothing for changing weather. For cooler weather, wear moisture-repellent and warmth-preserving base layers and long underwear (I like to wear Merino wool for that), insulating fleece or down jackets, and weather-resistant outer shells. On warmer days, wear lightweight, breathable materials to prevent overheating.
Invest in sturdy and waterproof hiking boots with ankle support for stability on uneven terrain. Make sure you break in your hiking boots before the trip so they adapt to the shape of your feet and become flexible enough. Don't forget a waterproof brimmed hat, sunscreen, sunglasses, and insect repellent.
A pair of walking poles can also be useful if you plan to hike extensively. Make sure the polls you choose are lightweight but sturdy, that they have a good grip and the size is suitable for your height. I prefer telescopic poles which can be extended but are small enough when folded so I can easily store and carry them.
A must when shooting at sunset, sunrise, or at night, and generally when shooting landscape photography, is a headlamp with spare batteries. You should always have one when you shoot in nature and generally out of the city where you cannot rely on artificial light. I cannot stress enough how important this is, and I have quite a few stories to tell of my experiences, when this was a precious tool to have.
Don't ever take your outfit and footwear lightly. Comfortable and weather-appropriate clothing and footwear ensure you can focus on photography while staying protected in various weather and terrain conditions.
9. Stay (or get) in Shape for Comfortable Hiking/Walking
Being in shape when walking or hiking in nature will make your photography experience a much more enjoyable one and a more productive one too. You don't need to be able to run the Marathon or walk for miles on end, but being comfortable walking a couple of miles on slightly abrupt terrain would be my recommendation.
To get there, you can do as little as walking briskly or riding a bike for about 30 minutes a few times a week, but doing more would be even better.
An easy workout you do a few times a week, some cardio exercises, some strength exercises for your lower body to give you stability, and some Yoga or stretching for flexibility would be ideal. This will spectacularly improve your endurance without requiring much effort, and you can increase gradually the difficulty as you feel stronger.
I try to work out every day (or at least a few times a week when I am very busy and have a lot of work to do), and I can tell you that it does wonders for how I feel and my endurance on photography trips. I believe that, as outdoors photographers, we need to be mindful of our physical shape to be able to get the most out of our outings, and this applies to photographers who shoot architecture or urban photography in the city too.
Always, however, be mindful of your health, and don't take risks. If you have any condition or concern, make sure you consult a healthcare professional before working out.
Being in shape lets you fully immerse yourself in nature, capturing breathtaking shots without discomfort.
10. Food Provisions & Hydration
Make sure you stay nourished and hydrated during your photography adventure in nature.
Pack lightweight, nutrient-rich snacks (i.e. protein bars) that provide enough energy for extended shooting sessions.
Carry a water bottle with enough water for the time you will be out shooting. An alternative would be a water bladder or hydration pack you can carry in your backpack. Some backpacks have special compartments for them and openings for the water bladder's hose, which makes it easier to store and use them. A water bladder with allow you to carry more water more efficiently than carrying it in bottles.
If you are away for a longer trip in nature, camping, for instance, or hiking for several days, you may also consider a portable water filter to get more water from natural sources. In that case, it would be a good idea to study the map to get an idea of where your water sources will be on the hike.
Making sure you have enough snacks and hydration will help you stay focused and creative and not worry about your physical comfort.
11. Weather Preparations
Keep a close eye on weather forecasts, preparing for potential storms, rain, or sudden changes in conditions. Pack weather-resistant clothing and gear, including rain covers for your camera equipment for cases of adverse weather.
Bad weather can many times be interesting weather for photography. This is why we need to know how to prepare for it. As they say, there is no such thing as bad weather, there are only unprepared photographers. Don't be that unprepared photographer. Prepare well, and you will love each moment taking photographs. When you are well prepared, you can use your creativity to capture amazing "bad weather" images, like dramatic clouds, tumultuous seas and rivers, or rainy landscapes.
However, even if bad weather can be interesting for photography, always go back to a sheltered place if things become worse. Safety always comes first!
12. Photography Gear Checklist
Well ahead of your landscape photography trip or landscape photography workshop, prepare a comprehensive list of photography equipment you'll need for your trip.
Below are some thoughts about the best gear to bring on a landscape photography trip or landscape photography workshop. To get more ideas about what equipment you need on your landscape photography trips and workshops, look at the photography gear suggestions on this page where you can also find several discount codes to order what you need.
13. Use the Best Camera You Can Afford
Bring your best camera with you, if you work with more than one camera, so you have the best results in challenging situations.
I work with a medium-format camera, and I warmly recommend it if you can work with it. My main camera is the Fujifilm GFX 100S, and the Fujifilm GFX 50S is my backup camera. I chose medium format because it gives me a higher dynamic range and better detail, and generally better quality overall in the RAW files.
You don't necessarily need to work with a medium format camera but make sure you work with the best camera you can for your situation so you get the most out of your landscape photography images which you have worked for so hard.
14. Master Your Camera Settings
A great camera is not enough. You need to be a great operator of that camera to get those great shots. So make sure you familiarize yourself with your camera's settings, especially if it Is a new camera you bought especially for this workshop or trip.
Practice until using your camera becomes second nature. You should know by heart and be able to operate it with tor eyes closed, so to speak. Know how to set the ISO, aperture, and shutter speed, how to change the shooting modes, how to activate/deactivate different features like long exposure noise reduction LENR, vibration control, exposure compensation etc. Practice adjusting these settings quickly to adapt to changing light conditions and capture the decisive moment with precision.
Understanding the capabilities of your camera allows you to make intentional and creative choices in each shot and makes the difference many times between a great shot and no shot.
15. Bring Various Lenses
Depending on how much you can carry, bring a range of lenses that can give you the most coverage in terms of focal length – wide-angle lenses for sweeping landscapes, telephoto lenses for wildlife or distant subjects, and a standard lens for versatility.
My favorite is the wide-angle lens, and if I were to have only one lens with me when shooting landscape or architecture, this would be it.
Another great lens for shooting landscape or architecture photography is the tilt-shift lens. Not only can you use the shift function to keep verticals from converging, but you can use the tilt function to obtain front-to-back sharpness and depth of field.
16. Use a Sturdy Tripod
A sturdy tripod is an indispensable tool for landscape photography, providing stability for sharp images, especially during long-exposure shots. Familiarize yourself with tripod setup and adjustment especially with how to set it up on uneven terrain. If you're going to shoot in the snow or on sandy beaches, bring special tripod feet accessories or spikes to ensure even more stability.
If you need a sturdy but versatile and relatively lightweight tripod, I recommend the FLM tripods and tripod heads, for which you can use my 10% discount code to get a better price. The code is JULIAG10 and you can use it at this link.
ANY FLM PRODUCT – Tripods Ballheads and accessories – discount 10% OFF – CODE "JULIAG10" – FLM is a German-based manufacturer of high-quality camera tripods, ball heads and related accessories. FLM tripods are known for their exceptional build quality and durability,being constructed from high-grade materials such as carbon fiber and aircraft-grade aluminum. FLM ball heads…
17. Get Creative with Neutral Density Filters (ND Filters) – Shoot Long Exposure and ICM Photography (Intentional Camera Movement)
An essential tool for landscape photography, if you want to shoot long exposure, will be the neutral density filters. If you know my photography, you know I'm passionate about long exposure photography, and I love ICM photography too (Intentional Camera Movement) so I always have neutral density filters in my photo bag, and when I travel for photography, I use them every day.
My go-to neutral density filters (ND filters) are the 6-stop, the 10-stop, the 13 and 14-stop, and for even longer exposures, the 16-stop ND filter. I use both circular and square filters.
In addition, I also have some neutral density grad filters (GND filters) for the cases when I encounter big differences between the luminosity of the sky and the ground and need to bring them closer and create a more uniform dynamic range. I usually have a 2-stop and a 3-stop soft edge neutral density grad and a 2-stop hard edge neutral density filter.
I work for years with the Formatt-Hitech filters and I love them because they have the widest range of filters out there, and they are reliable and color cast free. If you ever need a neutral density filter, you can use my discount code to get 10% off your order from this link by using code JULIA10.
If you want to become an expert in long exposure photography, study my Ultimate Long Exposure Tutorial, one of the most detailed tutorials about long exposure photography you will find, where I analyze in detail everything related to long exposure photography and the equipment you need.
You can also watch my video course Creating (en)Visionography – Long Exposure, Architecture, Fine Art Photography, where I talk extensively about these topics and demonstrate the entire process of shooting long exposure photography.
And if you want to find out the secrets of ICM photography, you can read my Compete Guide to ICM Intentional Camera Movement
These are the neutral density ND filters and accessories I am working with to create my long exposure photography and you can see the great results in my many award-winning images. Formatt-Hitech was the first to create truly neutral ND filters back in 2014 , the Firecrest line, the first to create an "anti light-leak" holder, and they keep innovating with the new Firecrest ULTRA ND filters.. This is why I work with this brand. It gives me the best results. Get 10% OFF discount for any Format-Hitech product – ND filters, ND grads, polarizing filters, holders, accessories from the link above with code "JULIA10"
18. Bring the Extras – Batteries, Memory Cards, etc.
Don't forget a blower for dust removal, and plenty of cleaning cloths for the cases when you will be shooting in the rain. You can never have too many dry cloths to wipe off the water drops from your lens when out in the rain.
Bring extra memory cards and batteries and make sure you charge those batteries after every day of shooting to have them ready the next day. Long days in the field or remote locations may require multiple battery changes, while extra memory cards provide sufficient storage for numerous shots. Keep in mind that extreme temperatures can make your batteries empty faster, so always have spares on hand.
19. Organize Your Camera Bag
Invest in a well-designed, good quality camera bag that offers comfort and efficient organization. Arrange your gear logically, ensuring easy access to frequently used items. Use padded dividers to protect delicate equipment, and choose a bag with weather-resistant features to safeguard your gear during unpredictable weather.
My main backpack is the Shimoda Action X50 one of the best backpacks you can find out there. It is resistant, versatile, spacious, and well-designed, and I warmly recommend it for landscape photography in any conditions.
20. Define Your Artistic Vision
Maybe the most important thing before embarking on your landscape photography workshop or trip is to take the time and explore your artistic intention and vision regarding the photography you will create on this trip.
No matter how well you prepare any practical aspect of your photography journey, the only element you cannot omit is to define your vision and decide what is that you want to express through the photographs you will capture.
Define the emotions you want to convey through your images and the story you wish to tell. Think about what subjects will do that in the best way and what light and weather conditions will help in conveying your ideas the best so you can be ready when you have those conditions and act on them.
Understanding your creative purpose will shape your approach to composition, lighting, and post-processing, infusing into each photograph a sense of self and personal expression.
21. Composition Techniques
Another important aspect of your preparation from the point of view of your photography knowledge is to brush up your compostion skills.
After artistic vision, mastering composition is the most important skill that will help you make the images that will express the best your ideas. Mastering the fundamental composition techniques is vital, so you can create impactful landscape photographs and there is no such thing as studying composition too much. You can constantly enrich your visual vocabulary and become more skillful with composition.
An interesting composition technique that works great in landscape photography, which you should experiment with, is looking for framing elements, like trees or rocks, to add depth to your shots. Also, seek to incorporate foreground interest in your images to create layers of depth and enhance the sense of three-dimensionality.
If you want to learn more about composition, in my best-selling book From Basics to Fine Art, I have an extensive chapter about composition that can give you many ideas to add to your toolbox.
22. Improve your post-processing Skills
Improving your post-processing skills is a transformative step towards elevating your landscape photography. While capturing the beauty of nature is a great experience, the way you enhance and refine your images during post-processing can truly make them stand out as works of art.
Learn to handle light, shadow, color, texture. Familiarize yourself with how to edit black and white and color photography. Learn new techniques and become comfortable with your software, especially Photoshop and Lightroom.
Even if I think everybody knows that probably by now, it bears repeating – always shoot in RAW so you are sure that you have the most flexibility in post-processing and that the file retains all the details and has the best quality your camera can give you.
When working on your images, learn to work in a "non-destructive" way which offers many more possibilities and it allows you to shape your vision gradually. Working in a nondestructive way means working with adjustment layers and any method that adds the effect you want to apply to the image in a layered way instead of taking it into the image. This gives you the utmost freedom in your editing and is also the easiest way to process an image.
When honing your post-processing skills, try to create an editing style of your own by adapting everything you learn from tutorials or workshops to your own style and personality. I've been teaching students for many years and I've seen how different people can be in their editing preferences.
Keep in mind that editing shouldn't be complicated, but like all great things, the art is to do more with less. I'm always trying to do this in my work, and I have developed a technique called Photography Drawing that I am constantly trying to simplify so I can do more with less. The secret is that, as you gain more experience, your processing technique should become simpler and not more complicated. You can do so many things with basic tools. Don't ever underestimate them.
23. Bracketing for Dynamic Range
Some of the subjects in this category are skylines, cityscapes, big vistas, and distant landscapes.
This is a more advanced processing technique but it is a very useful one, so I recommend you become familiar with it. In scenes with extreme contrast between highlights and shadows, your best bet is to use bracketing to capture multiple exposures of the same composition. You cann bracket manually or automatically. I, personally, like to do it manually for more control.
Bracketing allows you to blend these exposures later, creating an image with well-exposed details throughout the frame. The resulting image doesn't need to be an HDR (high dynamic range), especially not a "classic HDR" with extreme detail, color, and no shadows. We all know that look. It is unnatural and dated. You can use bracketing to blend exposures in a more natural and gentle way while still retaining the atmosphere of the image and the emotion of the scene.
I like to use luminosity masks to blend bracketed exposures, and if you want to learn more about this, have a look at my Complete Guide to Luminosity Masks and get the Free 16bit 7-Level Luminosity Masks Action available here for subscribers. It is the most advanced luminosity mask action you can find for free.
24. Shooting in the Rain
Don't shy away from photographing in rainy weather. It offers unique opportunities for creativity.
Use a waterproof camera cover or an umbrella to protect your gear while shooting.
Rain can add a beautiful, moody atmosphere to your images, enhancing colors and textures. When you shoot in the rain, look for reflections on wet surfaces and capture the interplay of light and shadow to add an original touch to your images.
25. Shooting When the Sky is Uninteresting
On days with a blank, cloudless sky, focus on capturing foreground elements and details to create compelling compositions.
Look for interesting textures, patterns, colors on the ground, rocks or trees, or seek out leading lines that draw the viewer's eye into the scene. Alternatively, use a wide-angle lens to emphasize the vastness of the landscape, minimizing the importance of the sky. In some cases, even incorporating the sun into the frame can give you unexpected results.
26. Shooting at Sunrise and Sunset
Sunrise and sunset are magical times for landscape photography. Golden hours—shortly after sunrise and before sunset—and blue hours, bathe the landscape in warm, soft light, producing captivating shadows and enhancing colors. Embrace the magical blue hours—just before sunrise and after sunset—for an ethereal, deep blue ambiance. Be patient and adaptable, waiting for the ideal light to accentuate the beauty of your surroundings.
Prepare ahead of time by checking the direction and exact time of the sunrise and sunset using mobile apps or online tools like The Photographer Ephemeris or Photopills that I mentioned earlier.
Most of the time, you will need to use your tripod to keep your camera steady since the light is dimmer at sunset and sunrise, and you will need to use a longer exposure than usually in order to use low ISO settings.
If possible, it is a good idea to scout the sunset or sunrise locations before the actual shooting day to get an idea about the best angles and be able to take your shots more quickly on the day of the shoot.
If you are attending a workshop, this will be an easier task, since the instructor will have done this for you in advance, but it is still a good idea to have a look beforehand if you can. In any case, make a habit of arriving at your location early to set up and capture the changing light as the sun ascends or descends from the best spots.
27. Shooting by Night
Night photography opens up a whole new world of possibilities. To capture the stars and Milky Way, you need to hike to dark, remote locations away from light pollution. Use a wide-angle lens with a wide aperture (low f-stop) to gather as much light as possible.
Enable manual focus and use the live view mode to achieve sharp stars. If you want to freeze the stars and not capture light trails, you need to shoot as short exposures as possible. To do that, open up the aperture as much as possible (the usual setting night photographers use is f2.8) and use a higher ISO, like 2000 or higher, depending on how your camera handles high ISO. If you want to capture light trails, you will need to shoot long exposures instead of short exposures.
Keep in mind that long exposures in cold weather, just like in hot weather, create more sensor noise, so to minimize it, you will need to capture a series of long exposures that are not very long (enough so that the noise is manageable) and then blend the images in post-processing to create the entire trail you are aiming for.
If you want to learn how to shoot night photography in detail, you can study my Complete Guide to Night Photography, which is, to my knowledge, one of the most detailed guides to night photography and where I discuss in detail all these things.
28. Moving From Place to Place on a Road Trip – Renting a Car and Booking Accommodation
Plan your road trip itinerary carefully to optimize your photographic opportunities. Schedule the shooting sessions based on lighting conditions and weather forecasts, and be flexible to adapt to changing circumstances. You will need to do that a lot when shooting landscape photography. Allocate sufficient time at each location to explore and capture different perspectives to not feel rushed during your journey.
If you're traveling to multiple locations on a road trip, rent a reliable vehicle to carry both your photography gear and personal belongings. Study the routes and road conditions in advance to plan for travel times and possible detours. Take note of access points and parking spaces near shooting locations so you are sure that you can reach them and be there in time for your shooting session.
Maximize your shooting time by booking accommodation close to your shooting locations. Staying nearby reduces travel time and allows you to capture sunrise and sunset without rushing.
You have to strike a thin balance among all these aspects of planning the trip to get it right. You need knowledge of the places you will be visiting, which may not be easy to find or put together, which is why attending a workshop makes this aspect much more manageable since your instructor would have done much of the work for you in advance so you can be more carefree.
CONCLUSION
If you are still here reading, congratulations! This was a long read, and I hope you enjoyed it and found it useful. If you are an experienced landscape photographer and outdoor person, I'm sure you know many of these things, but for someone who doesn't have a lot of experience, which is the case with most people, I hope this gave you a better idea of how to prepare for you next landscape photography adventure, either you want to plan it yourself or join a landscape photography tour or workshop.
As I mentioned in the beginning, I will be adding new things to this guide as I get more ideas, as I do with all my articles. If you want to read the updates, subscribe to my website to receive all the news and be sure that you come back to read this article again, as well as the hundreds of other articles and tutorials you can find on the website.
With this comprehensive checklist in hand, you're now well-prepared to embark on an amazing landscape photography workshop or trip. Remember to prioritize safety, embrace creativity, and enjoy to the fullest the moments that nature has to offer. As you immerse yourself in the pure beauty of the world, let your passion and artistic vision guide you to create inspiring images that reflect both the grandeur of the landscape and the essence of your own soul as an artist. Happy shooting and safe travels!
If you have more tips for planning such a landscape photography trip or workshop, feel free to share them in the comments so we can all learn from each other. And don't forget to subscribe to the website for more resources about fine art landscape photography and architecture photography, also to get special discounts for future workshops and courses.
If you are up to an outstanding landscape photography adventure, you are welcome to join us on one of the upcoming international workshops and trips. I will be more than happy and honored to guide you and you will have an amazing time and create a wonderful portfolio.
FURTHER STUDY RESOURCES
FINE ART BLACK AND WHITE PHOTOGRAPHY, ARCHITECTURE PHOTOGRAPHY, LONG EXPOSURE PHOTOGRAPHY
You can find more resources about fine art black and white photography, (en)Visionography, long exposure photography and architecture photography in my extensive collection of photography tutorials. To receive my future tutorials directly via email you can subscribe to my website.
Learn more about how to create fine art photography, from vision to processing and the final image in my video course From Vision to Final Image – Mastering Black and White Photography Processing, in my video tutorial Long Exposure, Architecture, Fine Art Photography – Creating (en)Visionography, in my book From Basics to Fine Art – Black and White Photography, or by attending one of my workshops.
To study with Julia Anna Gospodarou personally, find out about our
Support our mission for quality photography education. Donate!
We believe in knowledge, education, and the freedom of spirit that creates great art. We believe in art and artists.
Please donate to help us continue sharing free quality photography education and inspiration.
For more than one and a half decades, we have been sharing free content on fine art photography, black and white photography, architecture photography, long exposure photography, as well as our original concepts of "(en)Visionography" and "Photography Drawing".
Thousands of photographers started their journey in fine art photography here and found inspiration and practical resources that empowered them. Many have won awards for their work and are making a career in photography based on knowledge acquired from our free tutorials, books, courses, and workshops.
This makes us incredibly proud of our work.
To empower even more photographers to reach their dreams, we want to keep this resource free forever so every new or advanced photographer can have access to knowledge, quality photography education, and inspiration.
To help us in our efforts, please consider becoming a patron of this cause with your recurring donations.
You will be part of a generous effort by other exquisite art and photography-loving patrons, and you can be proud of being a supporter of art and artists like the famous Maecenas of the past. Art and artists need your support, as always in the history of art and photography.
Thank you!
Julia Anna Gospodarou – Founder – (en)Visionographer
Founder of (en)Visionography™ and creator of Photography Drawing™, internationally acclaimed fine art photographer, architect, educator, and best-selling author, with 25+ years experience in photography and architecture, Julia Anna Gospodarou is a leader in modern fine art photography who shaped with her work the way architecture fine art photography looks today.
Awarded more than 100 times in the most important photography competitions worldwide, two-time International Photography Awards IPA Photographer of the Year, World Photography Awards SWPA, and Hasselblad Masters Finalist, her work was widely exhibited and published internationally.
With a passion for the world's civilizations and speaking five languages, Julia was always in the avant-garde of thinking as an architect and a photographer, constantly pushing the limits of what is possible, constantly reinventing herself as an artist and an individual. Her huge love for travel and discoveries and her passion for teaching, art, and photography led her to become in the past one and a half decades one of the world's top-rated fine art photography educators and workshop organizers.